Franz Schubert
1797-1828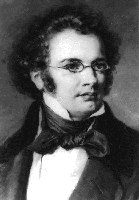 PLACES:



Franz Schubert

Franz Schubert

Notes on Franz Schubert

Schubert Project


One of the greatest composers of the 19th century, Franz Peter Schubert, b. Liechtenthal (then a suburb of Vienna), on Jan. 31, 1797, is widely regarded as the world's finest songwriter. At the age of 11 he was admitted to the Vienna Court Choir and studied at its training school until 1813. He prepared to become an elementary school teacher but gave up this vocation after 2 years of employment (1814-16) to devote his life to music.

Schubert wrote 2 of his best songs, "Gretchen am Spinnrade" and "Erlkonig," nearly 200 other songs, 3 masses, 3 symphonies, and much piano and chamber music before his 19th birthday. From 1818 until his death, he lived in Vienna, except for two summers (1818 and 1824) spent as music teacher to Count Esterhazy's family at Zelesz, Hungary. He died on Nov. 19, 1828, at the age of 31, almost certainly of syphilis.

Schubert was an immensely prolific composer in all media; only his operas have not been successful. He had no regular employment and depended for his existence on the support of his friends and the occasional sale of his compositions. During his lifetime his musical achievements were unappreciated save by his friends, primarily because he was not a concert performer, and most of his works were written for intimate gatherings rather than for the concert hall.

His gifts for expressive melody, unconventional but appropriate harmony, and unusual changes of key are evident throughout all his works but are most clearly seen in his 634 songs (lieder). In them, he established an equal partnership of piano and voice to portray the inner meaning of the text and set a model that subsequent composers would follow. Schubert's principal songs include settings of poems by Goethe, two song cycles--Die schone Mullerin (Fair Maid of the Mill, 1823) and Die Winterreise (The Winter's Journey, 1827)--and his last 12 songs (1828), published after his death as Schwanengesang (Swan Song). His best-known piano works include the intimate Moments musicaux (1823-27) and Impromptus (1827); the Wanderer Fantasy (1822); the Fantasy in F Minor for piano duet (1828); and his last three piano sonatas.

Schubert's first six symphonies are outwardly modeled after those of Mozart and Haydn but contain many innovative departures from their classic prototypes. His Eighth Symphony ("Unfinished") consists of only two movements and a sketch for a third; remarkable for its harmonic boldness, it was not performed until 1863. The Ninth C Major Symphony ("Great"), his orchestral masterpiece, dates from 1825. (The manuscript of the symphony was not discovered until 1838, by Robert Schumann, and was first conducted the following year by Felix Mendelssohn.) Schubert's chamber music includes 19 string quartets, the Octet (1828) for strings and wind instruments, the popular Trout Quintet (1819) for piano and strings, two piano trios, and the great C Major String Quintet of 1828. He also wrote several major works for violin and piano; six masses and other sacred and secular choral music; and several operas, whose lack of success is attributed principally to their poor librettos.

Schubert did not teach and left no school of composers, but his influence was felt throughout the century. His large instrumental and choral works of 1828 were Bruckner's point of departure. His chamber music and piano compositions influenced not only Schumann but also Brahms and Dvorák.


References:


1996 Grolier Multimedia Encyclopedia, Copyright 1996 Grolier Interactive, Inc.