Johannes Brahms
1833-1897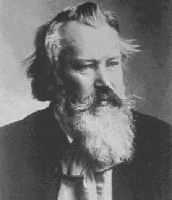 PLACES:



Texts of Lieder and Art Songs

Furtwängler on Brahms


Johannes Brahms, the composer of A German Requiem, four symphonies, four concertos, and many songs, piano pieces, and chamber works, was one of the seminal musical figures of the 19th century. Opera was the only major musical medium in which he did not write.

Brahms was born in Hamburg, Germany, on May 7, 1833. He first studied music with his father, a double-bass player for the Hamburg opera; subsequently he studied composition with Eduard Marxsen. Brahms was a talented pianist, giving his first public recital at the age of 14, and making a living by playing in taverns and dance halls.

On a concert tour in 1853 as accompanist for the Hungarian violinist Eduard Remenyi, Brahms met Franz Liszt, who praised the 20-year-old's Scherzo in E Flat Minor and his piano sonatas. Brahms, however, never became personally friendly with Liszt, and in 1860 he signed a manifesto attacking the so-called Music of the Future, which Liszt championed. More fruitful for Brahms was his meeting with Robert Schumann, who hailed the young composer as the coming genius of German music and arranged for the publication of his first songs and piano sonatas. Schumann died in 1856, and Brahms remained a devoted friend of his widow, Clara Wieck Schumann, until her death in 1896. Brahms never married, although he had a large circle of friends and patrons.

After Brahms was rejected for a post as conductor in Hamburg in 1862, he visited Vienna and later (1868) made his home there. The compositions written before his first visit to Vienna include several piano works--of which the "Edward" ballade is the most famous--the two serenades for orchestra, his first piano concerto, and the Piano Trio in B Major.

Brahms's work as a choral conductor in Vienna prepared him for the composition of A German Requiem, based on biblical texts rather than on the Roman Catholic requiem mass; it was first performed on Good Friday (April 10), 1868, in the cathedral of Bremen. Brahms's other major works from this period include the Piano Quintet in F Minor; the Magelone Romances based on poems by Ludwig Tieck; two piano quartets; and the trio for piano, violin, and French horn.

Brahms conducted the orchestra of the Society of the Friends of Music in Vienna from 1872 to 1875, after which he devoted himself entirely to composition. His conducting experience undoubtedly influenced his return to orchestral composition, marked by his first two symphonies (C minor and D major), his monumental violin concerto and second piano concerto, and two concert overtures--the Tragic and the jovial Academic Festival, based on student songs and written to celebrate an honorary doctorate awarded him by the University of Breslau in 1879. During this period Brahms did not neglect song or chamber music, although the number of his piano compositions diminished after he wrote Variations on a Theme by Handel (1862). During the 1880s, Brahms wrote his third (F major) and fourth (E minor) symphonies; the double concerto (A minor) for violin, cello, and orchestra; and choral works, chamber music, and songs.

Brahms made his will in 1891 and then embarked with renewed vigor on the composition of many of his best works. He returned to writing for the piano, creating in his short capriccios, ballades, and intermezzos a musical testament that sums up the musical achievements of German romanticism. During these years Brahms became friends with the clarinetist Richard Muhlfeld and wrote the finest works ever composed for the clarinet: two sonatas, the quintet for clarinet and string quartet, and the trio for clarinet, cello, and piano. Brahms's last two compositions were religious in nature: the Four Serious Songs on biblical texts, and the set of chorale preludes for organ. These works were published after Brahms died in Vienna on April 3, 1897.

Brahms, more than any other composer of the second half of the 19th century, was responsible for reviving what is termed "absolute" music--compositions to be accepted on their own terms as interplays of sound rather than as works that depict a scene or tell a story (program music). Brahms was a master of the compositional craft. He often used established techniques, such as counterpoint, especially in his sets of variations, but in such novel and refreshing ways that the listener first perceives the beauty and strength of the music and only later becomes aware of the composer's technical mastery. Brahms's love of German folk song gave his music a sturdy Teutonic character. Although most of his music is serious, his intimate folk-song settings and his dazzling Hungarian-style finales, such as in the G Minor Piano Quartet or in the double concerto, reveal lighter sides of his musical personality. His choral music includes the finest Protestant church music since that of Bach, and in his lieder (songs) he created the perfect partnership for voice and piano, although he selected many undeserving texts for them. His piano writing is more difficult than it sounds; hence, these works appeal to pianists who are more concerned with musicality than with virtuosity. Brahms's legacy of musical craftsmanship is evident in the works of Max Reger and Paul Hindemith.


References:


1996 Grolier Multimedia Encyclopedia, Copyright 1996 Grolier Interactive, Inc.