Claudio Monteverdi
1567-1643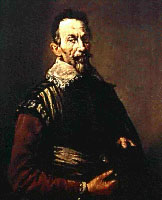 PLACES:



Claudio Monteverdi - The First Truly Great Composer


Claudio Giovanni Antonio Monteverdi, born in Cremona, Italy, was an outstanding figure in the development and perfection of early baroque music. He studied music with the celebrated Veronese theoretician Marco Antonio Ingegneri. At the age of 15, Monteverdi composed his first work, a set of three-part motets, and by 1605 he had composed five books of madrigals. He became interested in the experimental musical dramas of Jacopo Peri, who was music director at the court of the Medici family, and in similar works by other early composers. Before long he began to build a brilliant reputation in every type of music to which he turned his attention--lavishly orchestrated operas, ballet music, dialogues, songs and scherzi musicali, intermezzi for plays, outdoor music for tournaments, besides a wealth of church compositions including masses and vespers.

In 1607 Monteverdi's first musical drama, Orfeo, was produced. This opera, which surpassed all previous attempts at musical drama, was possibly the most important development in the history of opera and established it as a serious form of musical and dramatic expression. Through skillful use of vocal inflection, Monteverdi sought to express emotion as it would be expressed in the highly charged speech of a great actor. The orchestra, considerably enlarged and varied, was used not merely as an accompaniment for the singers but also to establish the moods of the various scenes. The score itself contains 14 independent orchestral pieces. The public received Orfeo enthusiastically, and with his next opera, Arianna (1608), Monteverdi's reputation as an opera composer was firmly established.

When Monteverdi became music director at St. Mark's, Venice, in 1613, his name and publications were already famous throughout Europe. Musicians came from England, Germany, and Scandinavia to study with him; publishers in northern cities vied with the Venetians to bring out the newest edition of his works. He shouldered the many responsibilities at St. Mark's for 30 years, and in addition to building its choral repertoire and fulfilling his duties with regard to special music required for state occasions, he also managed to keep alive his interest in secular and dramatic music. Patrician families commissioned works for performance in their great palazzi; churches, confraternities, and religious houses solicited his aid as composer and director for their annual celebrations. Whether it was a procession in which the doge and his ministers took part, a memorial service for a Florentine duke, a marriage, coronation, or state visit, Monteverdi was invariably called upon to provide music that ranged from a modest chamber work to a tournament involving stellar singers and five orchestras.

In his sixth, seventh, and eighth books of madrigals (1614-38) he moved away from the Renaissance ideal of equal-voiced polyphony toward the newer styles emphasizing melody, bass line, and harmonic support as well as personal, or dramatic, declamation. In 1637 the first public opera house was opened, and Monteverdi, stimulated by the enthusiastic response to opera, wrote a new series of operas, of which two remain, Il ritorno d'Ulisse in patria (The Return of Ulysses to His Homeland, 1641) and L'incoronazione di Poppea (The Coronation of Poppaea, 1642). Written in Monteverdi's old age, these operas contain scenes of great dramatic intensity in which the vocal and orchestral music accurately reflect the thoughts and emotions of the characters. They influenced many subsequent composers of opera and are still performed today.


References:


1996 Grolier Multimedia Encyclopedia, Copyright 1996 Grolier Interactive, Inc.

Microsoft Encarta 98 Encyclopedia, Copyright 1993-1997 Microsoft Corporation.