Gustav Mahler
1860-1911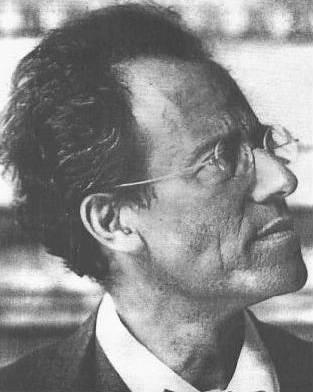 PLACES:



The Gustav Mahler Virtual Shrine

Gustav Mahler WWW Pages

The Mahler Archives


Gustav Mahler was an Austrian composer and conductor. His compositions are few in number--they consist chiefly of nine completed symphonies and seven song cycles--but vast in scale, often taking an hour or more to perform and calling for a very large orchestra, sometimes with a chorus and vocal soloists. Little appreciated in its own time, Mahler's music is now seen as an important link between the lyrical impulse of the Romantic era and the more ironic attitudes of the arts in the 20th century. The same tension between idealism and harsh reality that inspired much of his music also characterized Mahler's career as a conductor, where his refined taste and perfectionism often had magnificent artistic results, but also tended to alienate audiences and musicians.

The son of a Jewish distiller, Mahler heard a rich variety of folk and art music during his Bohemian boyhood; the melodies that give compassionate humanity to his symphonies have their roots here. He studied in Vienna, taking courses at both the conservatory and the university, and attending the lectures of composer Anton Bruckner. In 1880, shortly before making his conducting debut at a summer theater in the Austrian spa of Hall, Mahler completed his first mature composition, the cantata Das Klagende Lied. For the next decade or so, Mahler accepted conducting posts at one opera house after another, wearing out his welcome in each new place with his authoritarian discipline and his devotion to serious opera. By sheer persistence and the excellence of his performances, he had some success in promoting the operas of Mozart, Weber, and Wagner to audiences who were used to lighter fare. His first masterpieces, the song cycle Lieder eines Fahrenden Gesellen (1883-85) and the First Symphony (1884-88, revised 1893-96), slowly took shape during this period. Mahler's only composition for the stage, a completion of Weber's sketches for the opera Die Drei Pintos, was produced in 1888.

Mahler read Des Knaben Wunderhorn, a collection of German verse modeled on folk poetry, in 1887, and in the years following, he set the poems as songs, incorporating some of the songs into his Second, Third, and Fourth Symphonies; these are sometimes called his "Wunderhorn" symphonies. From 1891 to 1897 he held his first permanent conducting posts, with the Hamburg Opera and--after the death of conductor Hans von Bulow, with the Hamburg Symphony. It was while attending von Bulow's funeral (1894) that Mahler conceived the spectacular choral finale of his Second Symphony ("Resurrection"), his best-loved work during his lifetime and long afterward.

Although Mahler's baptism as a Roman Catholic in 1897 was a conversion of convenience, opening the way to his appointment as conductor of the Vienna Court Opera, he found much in Catholicism to satisfy his philosophical and spiritual leanings. His ten years at the Court Opera, and particularly his collaborations with the stage designer Alfred Roller, are considered a highwater mark in opera history and the culmination of an exceptionally fertile period in Vienna's cultural life.

In 1901, Mahler married Alma Schindler, herself a talented composer--although Mahler required her to give up her own work in order to provide him with a secure environment in which to compose. His Fifth through Eighth Symphonies followed with unaccustomed speed over the next five years. The huge Eighth Symphony (1906), and Das Lied von der Erde (1908-09), the "symphonic" song cycle that followed, are considered his ultimate achievements, summing up, as they seem to do, a lifetime of musical concerns and preoccupations.

Anti-Semitism and charges of absenteeism combined to drive Mahler from Vienna in 1907. The death of his eldest daughter and the diagnosis of his own life-threatening heart condition produced an attitude of resignation and a turning inward. His Ninth Symphony (1908-09) and the incomplete Tenth (1910) are heartrending documents from this period. During the last four years of his life, Mahler maintained a strenuous schedule of conducting on tour and at the Metropolitan Opera and the Philharmonic in New York City.

Although 19th-century European composers all contributed to the symphonic tradition, Mahler alone can be said to have taken up the challenge to expand the symphonic form that Beethoven laid down in his Ninth Symphony. He did so by infusing the symphony with the poetic, psychological, and religious content of vocal music. Unsurpassed as an orchestrator, he was also, in his later works, a prefigurer of atonality. Nevertheless he remains a controversial figure with concertgoers. The naked emotionalism of his music is greatly prized by some and repellent to others.


References:


1996 Grolier Multimedia Encyclopedia, Copyright 1996 Grolier Interactive, Inc.