Antonin Dvorák
1841-1904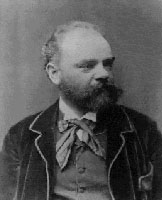 PLACES:



Antonín Dvorák


Antonin Dvorák was the greatest Bohemian composer and one of the leading masters of symphonic and chamber music of the late 19th century. Dvorák displayed unusual musical talent at an early age and learned to play the violin from the local schoolmaster. At age 16 he went to Prague to study organ and composition, supporting himself as a violist and piano teacher. His first successful composition was Hymnus (1873), a patriotic choral work. His fame grew steadily--in part owing to encouragement from Johannes Brahms and Franz Liszt--and after the publication of the first set of his Slavonic Dances (1878), Dvorák enjoyed wide popularity. Brahms befriended him and enabled his music to be performed and published in Germany.

Between 1884 and 1891 Dvorák often conducted his music in England; he wrote his great Symphony No. 7 (1885) and the oratorio St. Ludmilla (1886) for the English. From 1892 to 1895, Dvorák was director of the National Conservatory of Music in New York City. While in the U.S. he acquired a great liking for black spirituals and American Indian music. Two of his most famous works, the Symphony No. 9 in E Minor (From the New World) and the Quartet in F, known as the American Quartet, were composed in the U.S. in 1893; two years later he completed his popular Cello Concerto. Dvorák returned to Bohemia in 1895, and in 1901 he became director of the Prague Conservatory.

Dvorák's early works were also influenced by the music of the Austrian composer Franz Schubert and of Ludwig van Beethoven, and throughout his career he was influenced to some extent by the work of the German composer Richard Wagner. Dvorák drew on Czech and Slavonic folk music, and his most mature works reflect his deep national consciousness.

A prolific composer, Dvorák worked in all forms, and his music has a spontaneous freshness that sometimes conceals the skill of its construction. He was a melodist of genius and a superb orchestrator, and, like Brahms, cultivated the traditional classical forms. Although Dvorák is best known for his orchestral music--which includes nine symphonies, several overtures and symphonic poems, the Slavonic Rhapsodies, the Scherzo Capriccioso, and many other works--much of his finest music is found in his string quartets and other chamber works, particularly the Piano Quintet in A and the Humoresque (1894). Most of his songs have the flavor of Czech folk melody, which is also present--if more subtly--in his other music. Among his choral works are the Stabat Mater (1877), Requiem (1890), and Te Deum (1892); his operas include Vanda (1875), The Jacobin (1887-88), Rusalka (1901), and Armida (1902-3);


References:


1996 Grolier Multimedia Encyclopedia, Copyright 1996 Grolier Interactive, Inc.

Microsoft Encarta 98 Encyclopedia, Copyright 1993-1997 Microsoft Corporation.