Josquin Desprez
c. 1440-1521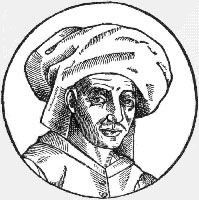 PLACES:



Josquin Desprez

Basic Repertoire List - Josquin


Josquin Desprez was a celebrated composer of the Renaissance and one of the most influential figures in the history of Western music. Born in the region of Hainaut (in present-day Belgium), he probably received his musical training at Cambrai, France. In 1459 he became a singer at the cathedral in Milan and was employed there until the end of 1472. He then passed into the service of Galeazzo Sforza, duke of Milan. After Galeazzo's death in 1476, Josquin joined the entourage of the duke's brother, Cardinal Ascanio Sforza, with whom he remained probably until September 1486, when he became a papal singer in Rome. He then began a period of traveling in Italy, France, and the Low Countries. In the papal chapel again from June 1489 through November 1494, he was nominated for several important benefices by the pope. After a period in France (1501) and then in Italy (1503-04) at the court of Ferrara, Josquin returned to Hainaut in May 1504, where he served as provost of the local church at Conde until his death.

Josquin's mastery of every important musical genre of his time is evidenced by his surviving works, which include 19 masses, about 100 motets, some 70 French chansons, and a handful of instrumental pieces and Italian frottole (part songs). These were published widely both during his lifetime and long after his death. His musical style was the product of two cultures: the north, where he was born and educated and to which he later returned and the south, where he reached artistic maturity and spent many of the most productive years of his life. The techniques and styles of the two regions coexist in his music, and he had recourse to them throughout his long career.

In many of his works the contrapuntal artifices of the Franco-Netherlanders and the chordal, harmonically controlled style of the Italians are fused into a rich and expressive musical language that has as its primary goal the perfect union of words and music. In his motets, melodic imitation is the prevailing technique. Above all, the motets show highly expressive treatment of text, reflecting Josquin's deep religious conviction as well as the age's new humanistic attention to personal expression. To his secular compositions, his polyphonic (multivoiced) chansons, he applied a range of techniques, from simple and chordal to highly imitative. These works set a standard for composers of the later Renaissance that was often emulated but never surpassed.


References:


1996 Grolier Multimedia Encyclopedia, Copyright 1996 Grolier Interactive, Inc.

Microsoft Encarta 98 Encyclopedia, Copyright 1993-1997 Microsoft Corporation.