Franz Liszt
1811-1886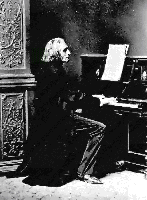 PLACES:



Franz Liszt Site

Franz Liszt Society

Istituto Liszt


Franz Liszt was one of the most celebrated pianists of the 19th century and one of its most innovative composers. As a small child he showed immense musical gifts. At the age of 10 he moved with his family to Vienna, where he studied with Carl Czerny and Antonio Salieri and played for Beethoven. In 1823 his family moved to Paris, but Liszt was denied admission to the conservatory because of his youth and foreign origin. He had no further formal piano instruction, though he studied composition with Ferdinando Paer and Anton Reicha.

Liszt toured for several years as a recitalist before he settled (1834) in Geneva, Switzerland, with the Countess Marie d'Agoult. One of their three children, Cosima, married the conductor Hans von Bulow and then Richard Wagner; another, Blandine, married Emile Ollivier, premier of France at the outbreak of the Franco-Prussian War of 1870-71. In 1839, Liszt embarked on a series of concert tours throughout Europe.

In 1844, Liszt was appointed musical director in Weimar; he settled there in 1848 and abandoned concertizing to devote himself to conducting and composition. From these Weimar years come his best-known large compositions: the two piano concertos, the Totentanz (Dance of Death) for piano and orchestra, the Dante Symphony (1856), and the monumental Faust Symphony (1854-57). Liszt also invented a new form, the symphonic poem, an orchestral composition that follows a literary or other program; it consists of a single movement, generally organized either as a loose sonata form, as in Tasso, or as a one-movement symphony, as in Les Preludes. Eleven of his twelve symphonic poems date from his first Weimar period. Liszt unified his larger works by deriving their thematic materials from one or more short motifs. The Hungarian Rhapsodies, Liszt's best-known solo piano works, were based on Hungarian urban popular music rather than folk music.

Liszt left Weimar for Rome in 1859 with the Princess Carolyne von Sayn-Wittgenstein, whom he met on a concert tour in Russia in 1847 and with whom he lived until 1863. After they separated, Liszt turned to writing religious music, including two masses, the Legends for piano, and the oratorio Christus (1863). In 1865 he received minor orders and was made an abbe by Pope Pius IX. Liszt returned to Weimar in 1869, but after his appointment as president of the New Hungarian Academy of Music in Budapest in 1875 he divided his time between Budapest, Weimar, and Rome.

The works of Liszt's late years, misunderstood by his contemporaries, are surprisingly modern in concept and anticipate many of the devices of Claude Debussy, Maurice Ravel, Bela Bartok, and the Austrian expressionists. He died while attending the Wagner festival in Bayreuth, Germany.

Liszt was one of the great altruists in the history of music: he performed the large piano works of Robert Schumann and Frédéric Chopin when they were physically unable to do so; he provided opportunities for Hector Berlioz, Wagner, and Camille Saint-Saens to have their music performed; and he also arranged for piano much music in other media--from Bach's organ works to Wagner's originally written operas. His piano writing incorporates both the orchestral style of Beethoven and the delicate pianistic effects of Chopin. He was a distinguished piano teacher, with pupils from all over Europe and the United States.

Though many of Liszt's works contain passages of bombast or sentimentality, his innovations in harmony, musical form, and writing for the piano make him one of the most important and influential composers of the 19th century.


References:


1996 Grolier Multimedia Encyclopedia, Copyright 1996 Grolier Interactive, Inc.