Claude Debussy
1862-1918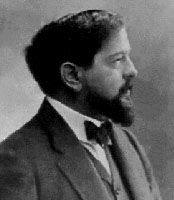 PLACES:



Claude Debussy

Debussy, Claude - The Musical Impressions

Debussy Works


Achille Claude Debussy was the creator and leading exponent of French musical impressionism. Debussy was born in Saint-Germain-en-Laye and studied at the Paris Conservatoire, which he entered at the age of 10. There he studied piano with Antoine Francois Marmontel and composition with Ernest Guiraud. In 1879, as private musician to Nadejda von Meck, the patron of Russian composer Peter Ilyich Tchaikovsky, Debussy traveled to Florence, Italy; Venice, Italy; Vienna, Austria; and Moscow. While in Russia Debussy became acquainted with the works of such Russian composers as Tchaikovsky, Aleksandr Borodin, Mily Balakirev, and Modest Mussorgsky and with Russian folk and Romani (Gypsy) music. Debussy won the coveted Grand Prix de Rome in 1884 for his cantata L'enfant prodigue (The Prodigal Son). He then studied in Rome for two years, as required by the terms of the award, submitting new compositions regularly but unsuccessfully to the Grand Prix committee. Among these were the symphonic suite Printemps and a cantata, La demoiselle élue, based on the poem The Blessed Damozel by British writer Dante Gabriel Rossetti.

From 1887 on, Debussy confined his activity to composition, rarely appearing in public as a performer. Although he associated little with musicians, he enjoyed the company of the leading impressionist poets and painters who gathered at the home of the poet Stéphane Mallarmé. Their influence is felt in Debussy's first important orchestral work, Prelude to the Afternoon of a Faun (1892-94), inspired by Mallarmé's poem, L'Apres-midi d'un faune. This work established the style of impressionist music and initiated Debussy's most productive period, which lasted nearly 20 years. During that time he composed the orchestral suites Nocturnes (1893-99), La Mer (1903-05), and Images (1906-09); the two books of Preludes (1910-13), Estampes (Engravings, 1903), L'île joyeuse (The Isle of Joy, 1904) ; the incidental music to The Martyrdom of St. Sebastian (1911); the ballet Jeux (1912); and a number of songs and some chamber music. Debussy's one completed opera, Pelléas et Mélisande, based on the play of the same name by Belgian author Maurice Maeterlinck, was produced in 1902. It earned Debussy widespread fame for the extent to which his score retained and enhanced the abstract, dreamlike quality of Maeterlinck's play and for his treatment of the melody, which virtually duplicates the rhythm of natural speech. Regarded by some critics as a perfectly wedded fusion of music and drama, Pelléas et Mélisande has had frequent revivals.

In 1910 Debussy developed cancer, which sapped his strength during his last years. His sadness during World War I hastened the deterioration of his health. Many projects were planned, such as an opera based on Edgar Allan Poe's The Fall of the House of Usher, but few were completed. He died during the bombardment of Paris by German artillery.

Debussy's style was one of the most important influences on 20th-century music. He rejected the overblown forms and the harmonic style of the post-Wagnerians such as Gustav Mahler and Richard Strauss, countering with some harmonic innovations. Although he did not devise the whole-tone scale, he was the first composer to exploit it successfully. His treatment of chords was radical for its time: Taking advantage of their individual colors and effects, he arranged them so as to weaken, rather than support, the illusion of any specified key. The lack of fixed tonality in Debussy's music gives it a dreamy quality that some critics of his time referred to as musical impressionism, after the resemblance they saw to the pictorial and understated effects achieved by artists of the impressionist school. Pelléas et Mélisande, the most significant impressionist opera, has been called a masterpiece of understatement. Debussy wanted his music to sound improvisatory, as though it had not been written down. Many of his compositions are miniatures, such as the 24 piano preludes, which often have fanciful titles such as "What the West Wind Saw," "Dead Leaves," and "Sounds and Scents Revolve in the Evening Air." Debussy's piano music is the most important since Chopin's. He created a subtle pianistic style that made new demands on performing technique, and the shifting, blurred sonorities of the style were achieved by a new use of the damper pedal. His best-known composition is probably "Clair de lune" (Moonlight) from Suite Bergamasque (1890-1905) for piano.


References:


1996 Grolier Multimedia Encyclopedia, Copyright 1996 Grolier Interactive, Inc.

Microsoft Encarta 98 Encyclopedia, Copyright 1993-1997 Microsoft Corporation.