Winslow Homer
1836-1910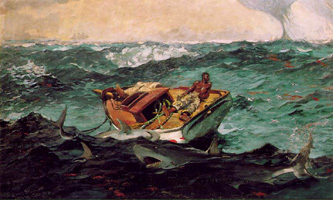 Gulf Stream, 1899




PLACES:



Winslow Homer 1836-1910

Winslow Homer

Winslow Homer

Mark Harden's Artchive: Winslow Homer


Winslow Homer was one of the finest and most influential American painters of the 19th century. Unlike his near-contemporaries James McNeill Whistler and John Singer Sargent, Homer executed the majority of his works in the United States and largely eschewed such revolutionary European artistic movements as impressionism in favor of a highly individual style rooted in traditional American realism.

An apprenticeship (1855-57) to a lithographer and an early career (1857-75) as a magazine illustrator constituted virtually all Homer's artistic education. His first significant oil paintings date from a Harper's Weekly assignment as a pictorial reporter of the Civil War. During the war Homer made several trips to the Virginia front, where he painted his first important oil, Prisoners from the Front (1866, Metropolitan Museum, New York City), a work notable for its cool objectivity and vigorous realism. In 1873 he began working in watercolor, a medium that became as important to him as oil. His subject matter of the 1870s was primarily rural or idyllic—scenes of farm life; children at play; and resort scenes peopled with fashionable women; one of the best known of the latter is Long Branch, New Jersey (1869, Museum of Fine Arts, Boston).

A stay in England from 1881 to 1882, during which Homer lived in a fishing village, led to a permanent change in his subject matter. Thereafter he concentrated on large-scale scenes of nature, particularly scenes of the sea, of its fishermen, and of their families. Taking up solitary residence on the Maine coast at Prout's Neck, he produced such masterpieces of realism as Eight Bells (1886, Addison Gallery, Andover, Massachusetts); in it the drama of the sea scene is imbued with an epic, heroic quality that symbolizes the dominant theme of his maturity: human struggle with the forces of nature. In his Gulf Stream (1899; Metropolitan Museum of Art, New York City), the black sailor lying on the deck of a small, dismasted boat is dramatically highlighted at the center of a ring of predatory sharks. A similarly dramatic scene is recorded in Life Line (1884; Philadelphia Museum of Art), in which a shipwreck victim attached to a line dangles precariously above seething waters.

Human beings are reduced to insignificant roles or are entirely omitted from Homer's later works, such as Early Morning after a Storm at Sea (1902; Cleveland Museum, Ohio). These stark, almost surreal depictions of nature's fury puzzled admirers of Homer's earlier works, but by the time of his death, he was recognized as a master, especially in watercolors, which display his gifts to fullest advantage.


References:


1996 Grolier Multimedia Encyclopedia, Copyright 1996 Grolier Interactive, Inc.

Microsoft Encarta 98 Encyclopedia, Copyright 1993-1997 Microsoft Corporation.