John Constable
1776-1837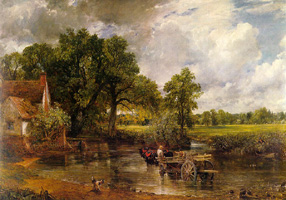 The Hay-Wain, 1822




PLACES:



CFGA - John Constable

WebMuseum: Constable, John

Mark Harden's Artchive: John Constable


The English artist John Constable has been called the father of modern landscape painting. The first major English artist to concentrate exclusively on the depiction of rural scenes, without classicizing or historical associations, Constable was also the first to paint such scenes on the scale usually reserved for recording important events in history. Devoting his life to painting a small portion of the English countryside, especially the area around the River Stour in East Anglia, he never founded a school, although he did exert a strong influence on the genre. Constable's interest in the effects of light later became an inspiration to the painters of the impressionist movement.

Constable was born in East Bergholt, Suffolk. He showed a strong interest in art from his childhood. After working in his father's flour mill, he went to London in 1799 to study painting at the Royal Academy schools. There he followed the usual program of drawing from models and plaster casts and attending anatomy classes. When he decided to concentrate on observed nature, he was accordingly forced to invent a new, freer manner of working that permitted him to express the transient effects of light and shade on the landscape. The specks and strokes of white paint that often lie on the surface of his landscapes are one of the means by which he tried to capture the sparkle and freshness that fascinated him. On his own, Constable also learned painting technique by copying the works of Dutch painter Jacob van Ruisdael and French landscapist Claude Lorrain, both of whom he greatly admired.

Determined to paint the objective facts of rural England, Constable, almost despite himself, infused his paintings with his innermost feelings. Over the span of his working life, these feelings ranged from a joyful participation in the alternating seasons of the year, as in his 1.8-m-wide (6-ft) The Hay Wain (1821; National Gallery, London), to his sorrow following the death of his wife in 1828. His inner torment is revealed in Hadleigh Castle, exhibited in 1829 (Yale Center for British Art, New Haven, Conn.).

Constable had little success in England during his lifetime. Because landscape painting was considered a minor genre, he was not admitted to full membership in the Royal Academy until 1829, when he was more than 50 years of age. He was, however, greatly admired in France, where three of his works, including The Hay Wain and View on the Stour near Dedham (1822; Huntington Art Gallery, San Marino, Calif.), were shown at the Paris Salon of 1824. The rising generation of French romantic painters was impressed by his free handling of paint and lively rendering of light and shade in high-key colors. Eugene Delacroix repainted parts of his Scenes from the Massacre at Chios (1824) after seeing the Constable paintings at a Paris dealer's shop. More significantly for the future, Constable was also a major force in the regeneration of French landscape painting effected by the Barbizon school.

Today, Constable's finished, exhibited paintings are sometimes distinguished from his sketches or studies, which are often preferred for their greater spontaneity. Excellent examples of the finished works are located in the Metropolitan Museum of Art, New York, whereas the sketches can best be seen in the Victoria and Albert Museum, London, and in the Yale Center for British Art. Constable's works include Boatbuilding Near Flatford Mill (1814-1815, Victoria and Albert Museum, London), which he painted entirely outdoors, The White Horse (1819, Frick Collection, New York City), The Cornfield (1826, National Gallery, London), and Salisbury Cathedral from the Meadows (1831, National Gallery, London). Five of Constable's seven children were painters, and some works formerly attributed to Constable are now known to be the work of his son Lionel.


References:


1996 Grolier Multimedia Encyclopedia, Copyright 1996 Grolier Interactive, Inc.

Microsoft Encarta 98 Encyclopedia, Copyright 1993-1997 Microsoft Corporation.