El Greco
1541-1614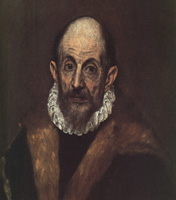 Self-Portrait




PLACES:



CFGA - El Greco

El Greco

WebMuseum: Greco, El


El Greco was the most outstanding painter of the Spanish school in the 16th century. El Greco was born in Candia, now Iráklion, Crete (then a possession of the Republic of Venice), in 1541 and was named Domenikos Theotokopoulos. Factual details of his youth and artistic training are extremely scanty. He was probably first apprenticed as a painter of religious pictures in the Greco-Byzantine tradition.

In about 1566, El Greco went to Venice, where he remained until 1570. He was employed in the workshop of Titian and was also strongly influenced by Tintoretto, both masters of the High Renaissance. Such early Venetian paintings as his Christ Healing the Blind Man (1566?-1567?, Gemäldegalerie, Dresden) demonstrate his assimilation of Titianesque color and of Tintoretto's figural compositions and use of deep spatial recesses.

In 1570 he went to Rome, and he entered the Roman painters' guild in September 1572. There the sculptural qualities of the work of Italian artist Michelangelo inspired him, as is evident in his Pietŕ (1570?-1572?, Philadelphia Museum of Art) and Purification of the Temple (1570?-1575?, Minneapolis Institute of Arts). A study of Roman architecture also reinforced the stability of his compositions, which often include views of Roman Renaissance buildings. It is reported that during the pontificate of Pius V (1566-72) El Greco, by offering to repaint Michelangelo's Last Judgment in the Sistine Chapel, made himself unpopular in Rome and was obliged to move to Spain.

El Greco arrived in Toledo in 1577. He quickly began work on his first Spanish commission, producing for the Church of Santo Domingo el Antiguo the sumptuous Assumption of the Virgin (1577, Art Institute of Chicago), a painting that marks a turning point in his art. Although compositionally based on Titian's Assumption (1516-1518) in Santa Maria dei Frari in Venice, the colors and spatial relationships are less Italianate. A move toward nonnormative colors, groupings, and figural proportions became more marked in El Greco's art with each successive phase.

El Greco was anxious to be given the commission to fresco the walls of the newly built royal monastery-palace of El Escorial near Madrid, completed in 1582. He submitted several paintings to King Philip II for approval but was denied the commission. One of these, The Triumph of the Holy League (1578?-1579?, versions in El Escorial and in the National Gallery, London), proves his ability to combine complex political iconography with medieval motifs. El Greco also worked for Toledo Cathedral: The Disrobing of Christ (1577-1579) for the sacristy presents a splendid image of Christ in a rich red garment, closely surrounded by his captors. In 1580-82 he painted The Martyrdom of Saint Maurice. The painting failed to please the king, however, further encouraging El Greco to remain settled permanently in Toledo, where the numerous religious foundations provided a steady source of commissions. Financial difficulties seem to have forced the artist into intensive productivity, aided by studio assistants, usually resulting in several versions of each major composition.

In 1586 El Greco painted one of his greatest masterpieces, The Burial of Count Orgaz, for the Church of Santo Tomé in Toledo. This work, still in place, portrays a 14th-century Toledan nobleman laid in his grave (in actuality situated just below the painting) by Saints Stephen and Augustine. Above, the count's soul rises to a heaven densely populated with angels, saints, and contemporary political figures. The Burial also manifests El Greco's typical elongation of figures and a horror vacui (dread of unfilled spaces), features of his art that became more pronounced in later years. These characteristics may be associated with international mannerism, which is still evident in the art of El Greco sometime after it had ceased to be widely popular in European painting. El Greco's intensely personal vision was rooted in his highly cultivated spirituality. Indeed, there is present in his canvases a mystical atmosphere similar to that evoked in the writings of such contemporaneous Spanish mystics as Saint Teresa of Ávila and Saint John of the Cross, although no evidence exists that El Greco had any personal contact with them.

A feverish intensity can be sensed in many of El Greco's canvases dating from the 1590s until the time of his death. Baptism of Christ (signed in Greek, as was the artist's custom, 1596?-1600?) and Adoration of the Shepherds (1612-1614), both in the Prado, seem to pulsate with an eerie light generated by the holy figures themselves. In addition, the Adoration figures are enveloped by a steamy haze, observable in other late works, which intensifies the mystical nature of the event. His visionary expressionism and extreme abstraction of forms are seen in The Agony in the Garden (c. 1597-1603; Toledo Museum, Ohio). Some of his finest pictures of saints, such as Saint Louis (c. 1587-97; Louvre, Paris), have a portraitlike quality balanced between realism and stylization. In addition to his religious works, El Greco produced many portraits of extraordinary psychological penetration, such as Cardinal-Inquisitor Fernando Nino de Guevara (c. 1600; Metropolitan Museum, New York City); mythological subjects like the Laocoön (c. 1608-14; National Gallery, Washington, D.C.); and visionary landscapes, which are represented by his views of Toledo (c.1595-1614; Metropolitan Museum and the Greco Museum, Toledo). El Greco was also an accomplished sculptor and designed architectural settings for two altarpieces made in 1577.

The intense emotionalism and spirituality of El Greco's art marks him as one of the last and greatest inheritors of the 16th-century international Mannerist style. His mysticism was ideally suited to the fervent religious climate of Counter-Reformation Toledo, but his style was not easily transmitted, and he had no important followers. Soon after his death Spain was to move toward a more sober and down-to-earth art influenced by the Italian baroque realist Caravaggio.

The art of El Greco was neglected for three centuries, until the artists of the late 19th and early 20th centuries, with their interest in distortion and abstraction of form and in emotional expressionism, restored the painter's reputation as one of Spain's leading masters.


References:


1996 Grolier Multimedia Encyclopedia, Copyright 1996 Grolier Interactive, Inc.

Microsoft Encarta 98 Encyclopedia, Copyright 1993-1997 Microsoft Corporation.