Alexander Pope
1688-1744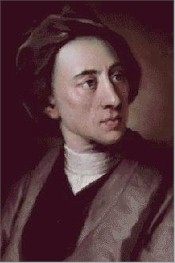 PLACES:



The Rape of the Lock Home Page


POEMS:



An Essay on Man

The Rape of the Lock

Elegy to the Memory of an Unfortunate Lady

The Universal Prayer

Ode on Solitude

Epitaph. On John Lord Caryll

On a Lady who P---st at the Tragedy of Cato

To Mr. John Moore, Author of the Celebrated Worm-Powder

Bounce to Fop


Alexander Pope was an English poet who, modeling himself after the great poets of classical antiquity, wrote highly polished verse, often in a didactic or satirical vein. In verse translations, moral and critical essays, and satires that made him the foremost poet of his age, he brought the heroic couplet, which had been refined by John Dryden, to ultimate perfection. Pope was the son of a London cloth merchant. His parents were Roman Catholics, which automatically barred him from England's Protestant universities. Until he was 12 years old, he was educated largely by priests; primarily self-taught afterward, he read widely in English letters, as well as in French, Italian, Latin, and Greek. A devastating illness, probably tuberculosis of the spine, struck him in childhood, leaving him deformed. He never grew taller than 4 ft 6 in and was subject to violent headaches. Perhaps as a result of this condition, he was hypersensitive and exceptionally irritable all his life.

In 1717 Pope moved to a villa in Twickenham, west of London on the Thames River, where he lived for the rest of his life. The most celebrated personages of the day came to visit him there. He was a bitterly quarrelsome man and attacked his literary contemporaries viciously and often without provocation. To some, however, he was warm and affectionate; he had a long and close friendship with the English writers Jonathan Swift and John Gay.

Pope's literary career began in 1704, when the playwright William Wycherley, pleased by Pope's verse, introduced him into the circle of fashionable London wits and writers, who welcomed him as a prodigy. He first attracted public attention in 1709 with his Pastorals. In 1711 his Essay on Criticism, a brilliant exposition of the canons of taste, was published. His most famous poem, The Rape of the Lock (first published 1712; revised edition published 1714), a fanciful and ingenious mock-heroic work based on a true story, established his reputation securely. In 1713 Pope published Windsor Forest, which endeared him to the Tories by referring to the Peace of Utrecht. In 1714 his work The Wife of Bath appeared, which, like his The Temple of Fame (1715), was imitative of the works of the same title by the 14th-century English poet Geoffrey Chaucer. In 1717 a collection of Pope's works containing the most noteworthy of his lyrics was published. Pope's translation of Homer's Iliad was published in six volumes from 1715 to 1720; a translation of the Odyssey followed (1725-1726). He also published an edition of Shakespeare's plays (1725).

Pope and his friend Swift had for years written scornful and very successful critical reviews of those whom they considered poor writers; in 1727 they began a series of parodies of the same writers. The adversaries hurled insults at Swift and Pope in return, and in 1728 Pope lampooned them in one of his best-known works, The Dunciad, a satire celebrating dullness. He later enlarged the work to four volumes, the final one appearing in 1743. In 1734 he completed his Essay on Man. Pope's last works, Imitations of Horace (1733-1739), were attacks on political enemies of his friends.

Pope used the heroic couplet with exceptional brilliance, giving it a witty, occasionally biting quality. His success made it the dominant poetic form of his century, and his poetry was translated into many languages.


References:



Microsoft Encarta 98 Encyclopedia, Copyright 1993-1997 Microsoft Corporation.