Henry Wadsworth Longfellow
1807-1882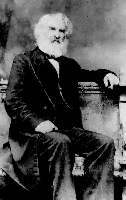 PLACES:



Longfellow Links


POEMS:



St. John's, Cambridge

My Lost Youth

The Arrow and the Song

Paul Revere's Ride

A Psalm of Life

The Rainy Day

Children


Henry Wadsworth Longfellow was the most popular and influential American poet of the 19th century and had the widest range and greatest technical skill of all the poets of "the flowering of New England." He influenced the poetic taste of generations of readers throughout the English-speaking world. Combining gentility with the common touch, he was equally successful in lyric and narrative poetry and during his later years became a master of the sonnet. Ballads like The Wreck of the Hesperus and Paul Revere's Ride were familiar to every schoolchild, and Evangeline (1847) became the first enduringly successful long poem written in the United States. His exploration of Indian lore in The Song of Hiawatha (1855) showed his skill in the use of American subject matter, and as a pioneer in the teaching of modern languages, he helped introduce Americans to the literature of Europe.

Longfellow was educated at Bowdoin College, from which he graduated in 1825. He then pursued further studies in Europe and in 1829 became a professor at Bowdoin. From 1835 to 1854 he was Smith Professor of Modern Languages at Harvard. He was twice married, first to Mary Storer Potter in 1831 (she died in 1835) and then, in 1843, to Fanny Appleton, who became the mother of his six children; their extremely happy married life ended tragically in 1861 when she was burned to death. He commemorated her shortly before his own death with the sonnet The Cross of Snow (1879). Longfellow's last visit to Europe (1868-69) was a triumphal tour during which he received honorary degrees from both Oxford and Cambridge. In 1884, two years after his death, he became the first American to be honored with a bust in the Poets' Corner of Westminster Abbey, London.

Longfellow received wide public recognition with his initial volume of verse, Voices of the Night (1839), which contained the poem A Psalm of Life. His subsequent poetic works include Ballads (1841), in which he introduced some of his most famous poetry, such as The Village Blacksmith, The Skeleton in Armor, and Excelsior; and the notable narrative poem The Courtship of Miles Standish (1858), about a love triangle in colonial New England. Longfellow's other works include The Seaside and the Fireside (1849); Tales of a Wayside Inn (1863), and Ultima Thule (1880). Longfellow also made a verse translation of The Divine Comedy (3 volumes, 1865-1867) by Italian poet Dante Alighieri.

Longfellow's poetic work is characterized by familiar themes and clear, simple, melodious language. Most modern critics, however, are not in accord with the high opinion that was generally held of the author by his contemporaries, and his works are often criticized as sentimental. For his contemporaries, he was a "new poet" who was sometimes reproached for lacking the didacticism that modern readers now complain of in his work. A learned man, he valued spontaneity and simplicity and believed that the purpose of the imagination was not "to devise what has no existence, but rather to perceive what really exists, not creation but insight." A Christian humanist, he generally avoided the sentimental nature pantheism popular in his time, and his essay The Defence of Poetry, published in the North American Review (1832), anticipated much of what Ralph Waldo Emerson would say, five years later, in his address "The American Scholar" to the Harvard Phi Beta Kappa Society.


References:


1996 Grolier Multimedia Encyclopedia, Copyright 1996 Grolier Interactive, Inc.

Microsoft Encarta 98 Encyclopedia, Copyright 1993-1997 Microsoft Corporation.