Wystan Hugh Auden
1907-1973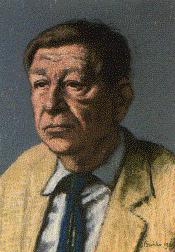 PLACES:



W. H. Auden


POEMS:



Funeral Blues


The English-born American writer Wystan Hugh Auden was one of the most important poets of the 20th century. Auden was born in York, the son of a physician. At first interested in science, he soon turned to poetry. In 1925 he entered Christ Church College, University of Oxford, where he became the center of a group of young leftist writers who generally expressed a socialist viewpoint, while continuing the artistic revolution of such earlier writers as T. S. Eliot, James Joyce, and Ezra Pound. This group included the poets Louis MacNiece and Stephen Spender and the novelist Christopher Isherwood. After graduating in 1928, he spent five years as a schoolmaster in Scotland and England.

Auden's earliest works are startling in several ways. They contain unusual meters, words, and images, juxtapose industrial and natural landscapes, and mix the rhythms of poetry with those of jazz music. Some critics feel that Auden's first books, Poems (1930) and The Orators, an English Study (1932), contain some of his finest work. Poems focused on the breakdown of English capitalist society but also showed a deep concern with psychological problems. He subsequently wrote three verse plays with Isherwood: The Dog Beneath the Skin (1935), The Ascent of F-6 (1936), and On the Frontier (1938). In the later poems of the 1930s, such as those in Look, Stranger! (1936) and Journey to a War (1939), his political and antiwar sentiments are expressed, but the poems lack some of the force of his earlier work. Another Time (1940) contains lighter and more romantic verse.

Auden lived in Germany, where he witnessed the rise of nazism, and during the Spanish Civil War he served as an ambulance driver. In 1936 he married Erika Mann, daughter of Thomas Mann, to provide her with a British passport and enable her to leave Germany. In 1937 he received King George's Gold Medal for Poetry. Auden immigrated to the United States in 1939 (he became an American citizen in 1946) and at about the same time returned to the religion of his youth, Anglicanism. His wide-ranging intellectual interests and his technical virtuosity in a variety of metrical forms are apparent in such works as The Double Man (1941), For the Time Being (1944), and the 1948 Pulitzer Prize-winning The Age of Anxiety (1947). These works also bear the stamp of his religious reaffirmation, although this is expressed by treating questions concerning existence rather than by discussing his own spiritual struggles and achievements. In 1945 he published The Collected Poetry of W. H. Auden, a widely read volume in which poems were so arranged as to defy chronology. In this volume, too, he revised many poems and omitted others, among them two of his most popular political poems. Many charged that Auden was censoring his early political self in a kind of purge. The poet, however, gave reasons of desire for technical correctness.

Nones (1951), The Shield of Achilles (1955), Homage to Clio (1960), About the House (1965), and City without Walls (1969) added steadily to the store of his carefully made, playful or irreverent, and sometimes deceptively simple short poems. In 1954 he received the Bollingen Poetry Prize. From 1956 to 1961 he held the chair in poetry at Oxford. Critical essays published in The Enchafed Flood (1950), The Dyer's Hand (1962), and Forewords and Afterwords (1973) increased his reputation for catholicity of taste. He influenced a generation of new poets by teaching, reading his poems, lecturing in colleges and universities throughout the United States and England, and editing the Yale series of young poets' work.

In his later years Auden spent part of the year at his apartment in New York (he always considered himself not an American but a New Yorker) and part in Italy--later still, in Kirchstetten, Austria, where he owned a house memorialized in Thanksgiving for a Habitat (1965). He received the National Medal for Literature in 1967. With his close friend Chester Kallman he collaborated on opera libretti, including Stravinsky's The Rake's Progress (1951). He returned to Oxford as an honorary fellow in 1972.

As a poet, Auden bore some resemblance to T. S. Eliot. Like him, he had a cool, ironic wit, yet was deeply religious. Possessed of probing psychological insight, Auden also had a supremely lyric gift. Auden's influence on the succeeding generation of poets was immense. Many critics consider Auden a master of verse; his intellectual rigor and social conscience combined with his fluid mix of styles and expert craftsmanship make him a paragon of modern poetics.


References:


1996 Grolier Multimedia Encyclopedia, Copyright 1996 Grolier Interactive, Inc.

Microsoft Encarta 98 Encyclopedia, Copyright 1993-1997 Microsoft Corporation.