Clive Staples Lewis
1898-1963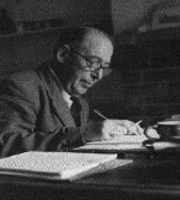 PLACES:



C. S. Lewis Foundation

Into the Wardrobe: The C. S. Lewis Web Site

C. S. Lewis Mega-Links Page

Alpha Ralpha Boulevard: C. S. Lewis


The English scholar, science-fiction writer, and Christian apologist Clive Staples Lewis was born in Belfast, Ireland. He was educated privately and at the University of Oxford, and was a member of The Inklings, a group of Oxford writers including J. R. R. Tolkien and Charles Williams. A fellow and tutor at Oxford from 1925 to 1954, he was subsequently professor of medieval and Renaissance English literature at the University of Cambridge.

Lewis's critical works include Allegory of Love: A Study in Medieval Tradition (1936), which examines the connections between medieval literature and courtly love, and A Preface to Paradise Lost (1942). Lewis was known to a large public, however, as a persuasive and passionate advocate of conservative Christianity through books which examined and explained moral and religious problems. His Perelandra trilogy--Out of the Silent Planet (1938), Perelandra (1943), and That Hideous Strength (1945)--was an unprecedented fusion of science fiction, fantasy, and allegory in which he placed the idea of Christian pilgrimage in a cosmic setting, portraying scientists as worldly tempters, blindly self-confident in their wisdom. Works examining the beliefs of traditional Christianity, based in part on radio lectures he did for the British Broadcasting Company during World War II, included The Problem of Pain (1940), Beyond Personality (1940), Miracles (1947), Mere Christianity (1952), and The Four Loves (1960). His most brilliant work of Christian apologetics is perhaps The Screwtape Letters (1942; rev. ed., 1961), in which a seasoned old servant of the Devil instructs an apprentice in the art of capturing souls. His purpose was to make the forces of evil look petty and contemptible. Lewis described his own conversion from atheism to Christianity between 1929 and 1931 in Surprised by Joy (1955). He also wrote a popular series of children's books known as the Chronicles of Narnia, which include The Lion, the Witch, and the Wardrobe (1950), Prince Caspian (1951), and many other charming adventure stories.

Lewis's sometimes detached but readable style, his penetrating psychological insight, and fertile imagination ensure him a large readership in and beyond the Anglican church. Other works include The Great Divorce (1945), The Abolition of Man (1946), and Reflections on the Psalms (1958).


References:


1996 Grolier Multimedia Encyclopedia, Copyright 1996 Grolier Interactive, Inc.

Microsoft Encarta 98 Encyclopedia, Copyright 1993-1997 Microsoft Corporation.

The Blackwell Encyclopedia of Modern Christian Thought, ed. Alister E. McGrath, Copyright 1993 Blackwell Publishers Ltd.