Married Persian Male, Successful President of a Very Strong Country (Praise Allah!), Emotionally Stable, Great with Kids, Seeks Young, Acrobatic Persian Females for Copulation and Procreation in order to Defeat the Crusaders through Population Expansion. No Pets Please.




In a recent speech, you know I suggest baby boom to defeat the West.

"Iranian leader calls for a baby boom to help defeat west."

"Go forth and multiply says Iran's president."

So I am seeking single or married females, any age, for many wonderful activities:

Long walks in the park, fine dining in wonderful tantalizingly expensive Persian restaurants, bowling, dancing to the music of the revolution, romantic reading of the sayings of the Prophet (Peace be upon him), political discussions about the evils of Zionism, philosophy, poetry, long Sunday drives, worship and praise in preparation for the coming of the twelfth imam, and blessed sexual intercourse (all positions) with the purpose of procreation to defeat the American and Zionist entities.

Me: Almost 50, but very virile, handsome, erudite, charming, pious, outspoken, I have Ph.D in traffic engineering (Allah be praised!), two wonderful children who will become martyrs, Allah willing, and a daughter, I like to sing, dance, run, swim, eat spicy food, and copulate.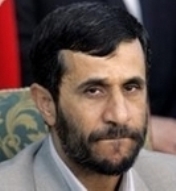 Here's me gettin' jiggy wit it




Dislikes are few-- Zionism, America, UN, pets, George Bush.

Please send picture and phone number if you are interested. If you are not interested, do not reply.

Vasalam Ala Man Ataba'al hoda

Mahmoud