Mahmoud Ahmadinejad and Vladimir Putin to Co-Star in New Musical 'My Fair Fuel Rods'"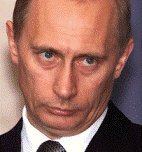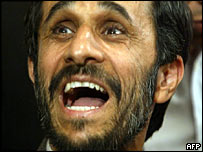 Who says authoritarian lunatics can't sing about nuclear reactors!?

Now a musical comedy like no other is in the works. In the tradition of the best Broadway musicals comes a project like no other. In fact, it is like no other project ever devised. It's sensational! Like no other sensation ever produced!

Vladimir Putin stars as Vladimir the Great, an imaginary glorious leader of most glorious Mother Russia.

Mahmoud Ahmadinejad stars as Mahmoud the Wise, Gateway to the Twelfth Imam and leader of the New Persian Empire.

Appearances by Isaac Goldstein, Spokesman for Israel... Mohammed el-Baradei, Diplomat in Chief... and the entire U.N. Security Council!

Together they sing and dance as they trade barbs and money for nuclear fuel rods! Includes the hits "Screw the Watchdogs," We Ate the Great Satan," and the infamous "Security Council, I Have a Right to Civilian Nuclear Power in the Name of Allah."

Excerpt:


Mahmoud the Wise: You can't take away my rights!

U.N. Security Council: Yes we can!

Mahmoud the Wise: No you can't!

U.N. Security Council: Yes we can!

Vladimir the Great: Yes they can, as long as they don't mess with me!!!

Mahmoud the Wise: Oh Vladimir, I need you.

Isaac Goldstein: Anyone care what I have to say?



Special cameo appearances by Dick Cheney, Kris Kristofferson, and Sean Penn.


Opens after American withdrawal from Iraq.