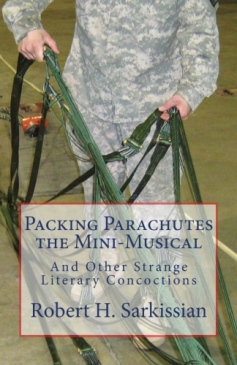 PACKING PARACHUTES THE MINI-MUSICAL: AND OTHER STRANGE LITERARY CONCOCTIONS

by Robert H. Sarkissian

2015, 84 pages, $9.99

Where else can you read about zombies, the 3,869,384,796 different genders, poor service from your cable company, the Tabuk Goatherding Mujahadeen of Arabia (the sports team), Scandinavian chimichangas, a half vampire and half umpire who memorizes baseball statistics, a drug that makes you quack like a duck, the Oobaooba Foundation for Psychotics, the IQ of nitrogen, and a musical featuring dancing parachute riggers, all in one place?

ORDER DIRECTLY FROM AMAZON.COM

REVIEW:

Robert H. Sarkissian is a satirist, a journalist, a novelist, a playwright, a punster - in general, the owner of one of the funniest minds today. He proved his mettle in his previous books 'SQUIBBED!: SATIRES AND OTHER ODDITIES' in which he displayed an enormous talent for finding humor in the most obsolete places, and IN THE WIND COUGHED AT DAWN in which he turned to his other love - poetry - and shared poems that have been published in various journals and widely read. He is a contributor for the online Armenian Poetry Project. So the man/parodist/poet has managed to be heard on many fronts. So the man/parodist/poet has managed to be heard on many fronts.

And yet none of that completely prepares us for this newest contribution to acing abdominal muscles post laughter - PACKING PARACHUTES THE MINI-MUSICAL. How this man's mind wraps itself around so many topical topics, alerts us to our own absurd foibles, prods our guilt button that we're not doing more to right some of the wrongs to which he eludes, and ends us leaving us gasping of air from excessive guffawing is beyond me. If you need a boost or a jolt or just some relief form the chaos pounding on our mind read this book.

The ingredients of this soup include: ARTICLES BY STUDLEY - More on carbon footprints and introducing mouthprints and ratios, Maltese Falcon: Bogie makes me swoon, Protest!!!!!!!!Protest the Bagel police and the Whole Grain Gulag, After 200 freaking years can't they sing the right words to the National Anthem/, Someone call Frank Cannon PI before I loose my lunch, Pardon me, may I eat your brain?, Gasp! Another celebrity sex tape released?!, I so love Chinese Food and the Chinese Government for buying me stuff!, Facebook Genderama, More Zombie talk, Why tats and piercings aren't on my To Do: EXAMS - Cable company representative qualification examination, Anger Management examination according to Sharia, The Al-Qaeda and/or Umbrella Organizations' Jihadist recruitment qualification exam (Praise Allah!), Lone Sudden Jihad sympathizer questionnaire, COMMERCIAL BREAK! : Quaxil, Avantgardia etc. This is not including QUICKIE NOVELS, NEWS STORIES (eg, Obesity rates remain disturbingly high according to the disturbed, etc), INTERVIEWS, MISCELLANEOUS (eg, TV shows that will never happen no matter how desperate the networks get, etc) and the ending MINI MUSICAL (of the books title).

Robert H Sarkissian is simply the funniest man breathing. Enjoy! Grady Harp, December 14, 2014
---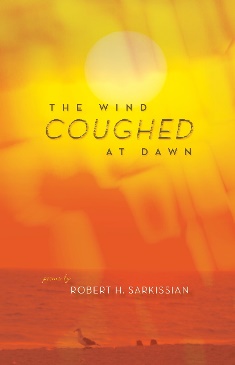 THE WIND COUGHED AT DAWN

by Robert H. Sarkissian

2011, 66 pages, $14.95

Robert H. Sarkissian's poems have appeared in magazines such as Athena Incognito, Pen and Ink, Mind in Motion, Lynx Eye, Silver Wings/Mayflower Pulpit, and online at the Armenian Poetry Project. The Wind Coughed At Dawn is a compilation of his previously published poems and a collection of his most personal works dealing with struggle, faith, loss, and hope, punctuated by humor.

ORDER DIRECTLY FROM AMAZON.COM

REVIEW:

Robert Sarkissian's new poetry book, The Wind Coughed at Dawn, is a nice tapestry of poems about love, life and everything in general. From addressing his pen as though it were human to writing a poem about the art of painting, his work is deeply probing and satisfying. With words that are colorful and creative, he is a master of vivid imagery. Every day rhyme and rhythm surface in his poem "The Next Day," and his sense of humor comes out in such poems as "I Ordered Psychosis and I Got Cirrhosis." A feeling of love for family exudes forth from a number of poems. Clearly he is deeply rooted in family bonds. Drawing on the history of a great molasses flood in the Boston area in 1919, one can almost smell the sticky sweetness of molasses while reading, "In the Thick of It."

Rich with spirituality, he takes the dimensions of the book a step further with his poems, "Liquid Life," focusing on the chalice and "A Peaceful Sigh," with thoughts on salvation.

His words are fluid yet direct, reflective yet almost precognitive in places. An example of his graceful flow of words is "Time flows down hills, through tunnels, funneling into a jar, but tomorrow never comes."

The Wind Coughed at Dawn is an enjoyable and relaxing read. High five to Robert Sarkissian, a superb poet.


---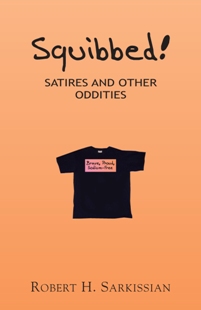 SQUIBBED!: SATIRES AND OTHER ODDITIES

by Robert H. Sarkissian

2010, 78 pages, $12.95

Squibbed! Squibbed? A squib is a short and witty or sarcastic saying or writing. Or in journalism a short news story, often used as a filler. Satirist Robert H. Sarkissian tries his best to be short and witty in various forms: fake news stories, interviews, commentaries, and novels. Yes, novels. The kind that fit on one page, and with very serious titles such as: "Eat the Veggies: A Novel About Sex, Power, and Brussels Sprouts" , "Forensic Crime Scene Special Pathology Task Force Homicide And Gruesome Accidental Suicide Unit (FCSSPTF-HGASU): Miami " , "Murder In A Small Town: A Story About A Murder In A Small Town". Or you can sing along with some of the oddest songs ever written, such as: "The 14th Century Antiwar Protest Marching Song" , "The Zingian National Anthem" , "Waiter, There s A Phenomenologist In My Soup". If you ever wondered about the research activities of ballroom-dancing existential psychologists, or wanted to read an interview with a literature professor whose colleague was abducted by aliens who like aromatherapy, or wondered what Friedrich Nietzsche wrote after he went insane, or even wanted to learn more about Hans Dolph Nilsson, the world's oldest diplomat (1526 - ), then this book is for you.

ORDER DIRECTLY FROM AMAZON.COM

REVIEW:

"Robert H. Sarkissian is a satirist, a journalist, a novelist, a playwright, a punster - in general, the owner of one of the funniest minds today. Hopefully with this small book, SQUIBBED!: SATIRES AND OTHER ODDITIES, his name will become a household word. He belongs in front of a camera or another equally appropriate platform for his gifts. But until that time this book of treasures will be one of the best antidotes for intellectual ennui on your bookshelf.

Sarkissian's spectrum of biting and hilarious topics range from little essays such as 'Dr. Kevorkian Learned Tap Dancing in Prison' (to the tune of 'Raindrops keep falling on my head'), or 'Al-Qaeda Presents Comedy Team As New Marketing Strategy', to examinations such as 'The Marxist Feminist Oppressed Womyn's Club Qualification Examination' (Question #1. Men are____a. Brown smelly sticky sludge b. Systematic greedmongers who purposely devise schemes to make womyn miserable c. Pigs d. Brainless scumbags who smell like sweat etc), to NEWS NON-STORIES: 'If the headline is good, why ruin it by writing a story?', 'Anorexics Walking a Thin Line', 'President Seeks to Spend More Money on Thrift Programs,' etc.

Every page of this little jewel of a book is full of very wise, keenly observed foibles that the author takes delight in parodizing. It is rare to come across a volume so packed with information shared with a tongue in cheek patter that is simply meant to entertain - and......to make us think a bit about just how absurdly we humans can act and speak. It belongs on everyone's beside table to provide a bit of humor and a chuckle at the end of an otherwise beleaguered day."

- Grady Harp (Los Angeles, CA United States)